STEM TEACHERS AWARD 2023
The Birla Institute of Technology and Science, Pilani - Dubai Campus in association with the Science India Forum-UAE, is proud to announce the launch of the first edition of the STEM Teachers Award on 29th April 2023 at BITS Pilani, Dubai Campus.

This award is designed to honour and recognize the leading STEM teachers in the U.A.E. who have significantly contributed to the highest quality of teaching and learning in the field. These educators are true innovators who have achieved greatness through their innovative teaching practices and have led the way in promoting student learning in the community.

The STEM Teachers Award is not just an honour for the recipients but also a valuable opportunity for them to disseminate their best teaching practices to the wider educator community. By sharing their knowledge and experience with others, the award recipients can contribute to promoting student learning in the community, yielding far-reaching benefits to society as a whole. The STEM Teachers Award is a platform that allows these educators to lead by example and inspire others to follow in their footsteps.

In conclusion, the STEM Teachers Award is a celebration of the outstanding achievements of high school teachers of STEM subjects in the U.A.E. who have made a positive impact on the lives of their students. The Birla Institute of Technology and Science, Dubai Campus, and the Science India Forum-UAE are honoured to recognize and celebrate the efforts of these exceptional educators.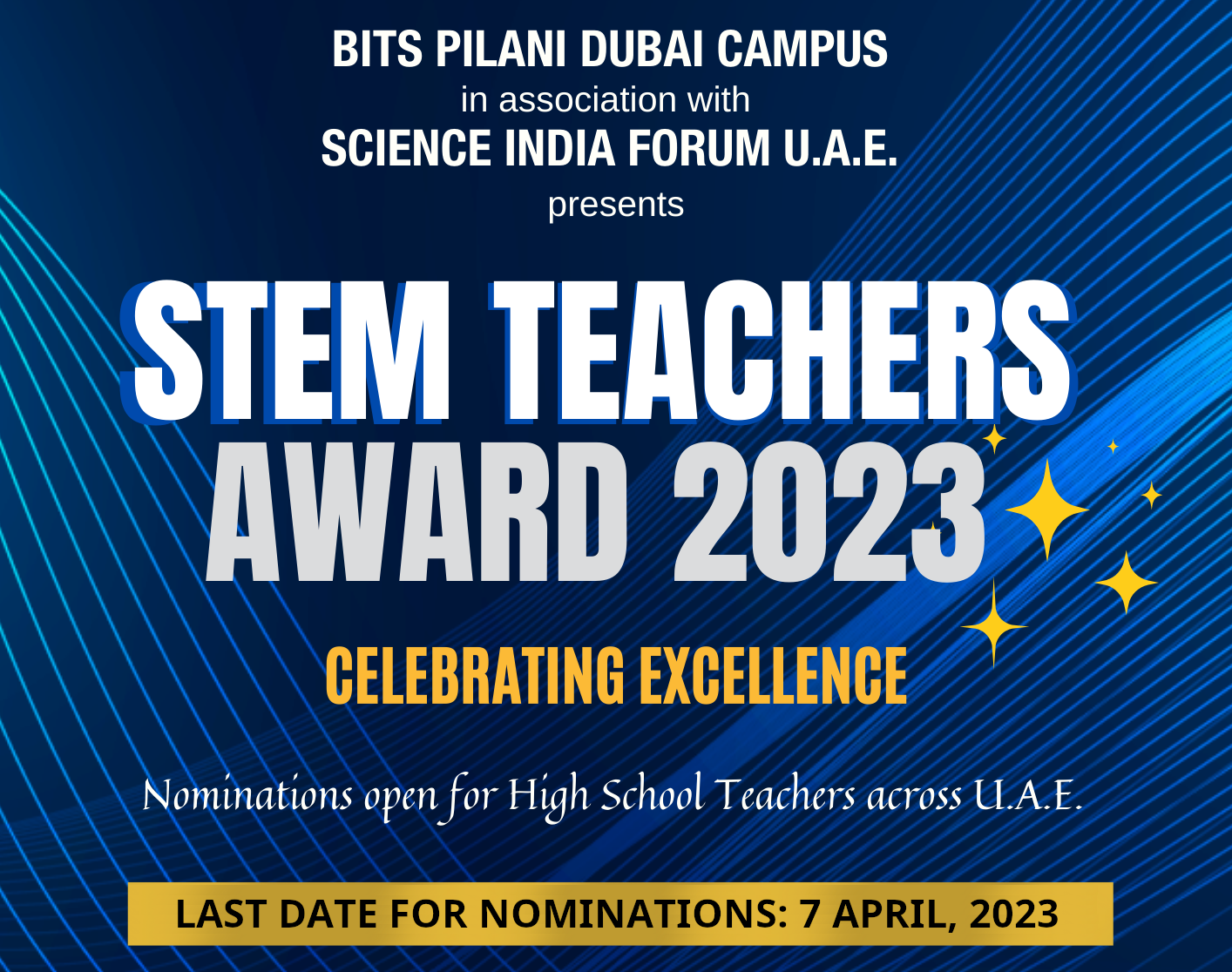 Organizers

BITS Pilani, Dubai Campus
The Birla Institute of Technology and Science (BITS) Pilani, Dubai Campus, is a premier institution for engineering and technology education, renowned for its dedication to providing quality education since its establishment in 2000. As one of the pioneering institutions in Dubai, it holds the distinction of being ranked as the top private university of India in Engineering and Technology, and is also among the Top 100 Universities in the QS BRICS University Rankings 2019 and the Top 200 Universities in QS Asia University Rankings 2023.

BITS Pilani, Dubai Campus is awarded a 5-star rating from Knowledge and Human Development Authority (KHDA), Government of Dubai in partnership with QS in 2022 based on four core categories namely, Teaching, Research, Employability and Internationalization.

With a diverse student population from over 20 countries worldwide, BITS Pilani, Dubai Campus offers a range of programs including B.E, M.E., M.B.A. and Ph.D. in various engineering and allied disciplines. The campus boasts a state-of-the-art infrastructure and provides a unique opportunity to gain a well-rounded education in an international environment, under the guidance of highly qualified faculty.

BITS Pilani, Dubai Campus alumni are making their mark in various fields across the globe, with many holding leading positions in companies such as Microsoft, Apple, Dell, Emirates Airlines, L&T, ABB, and Petrofac, among others. With many companies being led by BITS Pilani alumni, it is a testament to the excellence of education imparted at the institution.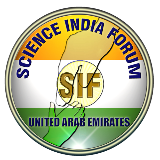 Science India Forum
Science India Forum UAE is a non-profitable voluntary organization dedicated to the service of society through the advancement of Science & Technology.SIF UAE like its parent organization VIBHA (Vijnana Bharati), believes in promoting and popularizing Indian sciences for the service of society.

Active in UAE for the past 16 (since 2006) years; the organization has been functional in not only introducing India's rich scientific heritage (right from ancient to modern) to the student community but also motivating them to take up pure science as a career and inculcate the moral value of giving back to the society.

Flagship programs include Shastra Pratibha Contest (SPC) a national science talent search contest organised for the students studying in UAE for past 16 years and National children's Science Congress' Screening and selection of projects from UAE for sending them to national level since 2013. SIFUAE connects to all schools across UAE and also conducts various Science related programs, Teachers empowerment and several enriching initiatives.
Nomination Categories
Nominate by choosing the category below
High School Teachers (Grade 11 & 12) and Heads of Schools who teach STEM subjects are eligible for these awards under all categories.
The Nominated Teacher must be a resident of U.A.E. only
Educational Administrators, Inspectors of Education, and the staff of Training Institutes, Coaching Centers etc. are not eligible for these awards.
Nominations will be accepted from the nominee themselves (Self Nomination), Schools/ Institutes, Students/ Parents, Relatives, Friends or Colleagues.
Nominee must be a resident of UAE while filing for nomination.
A nominee can choose to apply for maximum three categories of the award.
Nomination form details must be prepared by the proposed nominee themselves.
The main element of the nomination is the write-up (500 words) about specific contribution in their teaching profession and the award category nominated.
Supporting documents/evidence have to be uploaded in the nomination form.
Nominees may also provide the relevant link of their social media handles, showcasing the contributions in their professional journey.
Last Date Of Nomination is April 07, 2023.
For any further information, please email stemteachersaward@bitspilanidubai.ae or call +9714-2753700
Any further updates about the awards will be published on this webpage and also notified to the Nominees through email.
Reach Out
stemteachersaward@bitspilanidubai.ae
For any suggestions or queries you may have regarding the STEM Teachers Award 2023